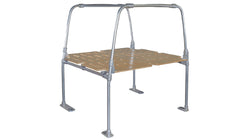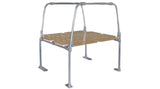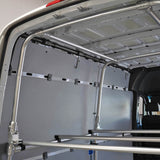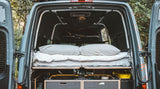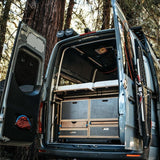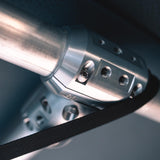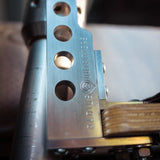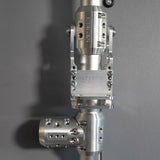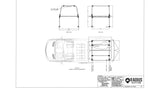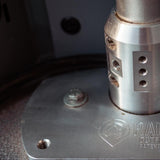 Easy to Install Fold-Away Sprinter Bed Frame
The "R-Cage" is the foundation of our patented Sprinter Van bed system, and easily bolts into your van without drilling. We also offer the complete bed kit.
Folds Away in Minutes!
If you need the utility of the van during the week, this bed kit allows you to go from cargo-to-adventure with ease. The bed platforms fold up quickly, giving you extra van storage when you need it. The mattresses stow to the sides against the wall, and all your bedding fits in the Storage Loft (sold separately).
No Drilling!
This bed frame is extremely strong and can be set up in a few hours. It simply bolts to the existing factory D-ring locations. The four compression blocks keep it snug to the van walls, keeping it quiet on and off-road. It can also be easily removed when needed, such as moving it to your next van.
Two sleep orientations
You can sleep sideways or longways. The R-Cage frame is the same for both, and make sure to select your preferred orientation for the Bed Platform and Mattress.
What's Included in the Box
R-Cage

Hardware to assemble the cage and bolt it into your van
Sold separately:
Garage Space
When the bed platforms are down and it's in sleep mode, the garage space underneath the bed kit is 34-36" so you can fit bikes or other gear. To adjust the bed height even more, the bed platforms will need to be narrowed (contact us for more details if that's what you're considering).
Compatibility
Currently compatible with 2007-to-present 144WB and 170WB High Roof Sprinters. We have additional models in development: 148WB High Roof Ford Transit, and a universal version for cargo trailers (contact us for more details).
Accessories
Check out the Bed Kit Accessories for extra storage, keeping stuff from falling off the bed while driving, or attaching things to the bed frame (fire extinguisher, shovel, iPad, etc).
Hardware
Hardware is provided to assemble the cage and bolt it into your van.
Easy bolt-on installation and beautiful craftsmanship add a structural cage to the interior of the van allowing all kinds of things to be hung, clipped, strapped, and stowed.
Materials
6061-T6 Billet Aluminum connectors

Aluminum tubing
Dimensions
(See the drawing images below for detailed dimensional information)
Currently compatible with 2007+ High Roof 144 Sprinters.
If you want to sleep sideways in your Sprinter, make sure you have Flarespace Flares installed before selecting the sleep sideways orientation for both the Bed Platform and Mattress.
If you don't want the Flares then you need to buy the sleep longways Platform and sleep longways Mattress.

We provide an optional specially-bent top bar that works with the factory AC roof top unit.

Two (2) accessory clamps included.
Works with several floor thicknesses.
Works in passenger, crew, and cargo vans. Vans with plastic molding covering the rear door pillars requires a modification in order for the bed platform restraint plate to attach to the pillar.
Works with factory headliners and most wall trim kits.
See the product disclosure for detailed info on all of these topics.
Designed: Monterey, CA
Made: Hardware made in Taiwan. Tubing formed in California.