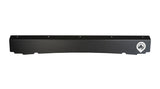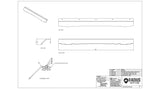 This Wind Deflector prevents the hum at 67 mph and lets you roll quiet. It's laser cut 3/16" aluminum powder coated and 58" long.
What's Included in the Box
One (1) Wind Deflector

Mounting hardware
Installation
It mounts to the top of the front Cross Bar. Be sure that the front Cross Bar is installed all the way forward to the stops (we've cut a tight profile to the roof line).
The Wind Deflector only works if the forward most Crossbar is all the way to the forward stops.
The smooth transition over the Cross Bar minimizes wind noise. It also look sharp. Lean into the wind and roll quiet.
Designed: Monterey, CA
Made: CA