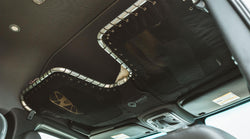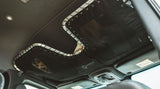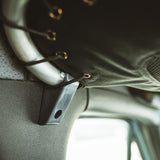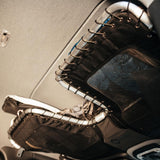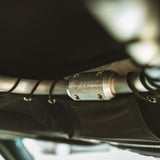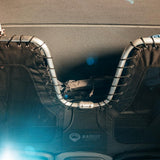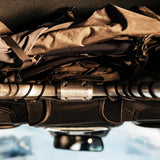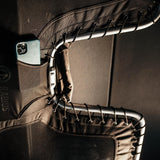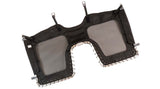 SPRINTER HEADLINER OVERHEAD SHELF
More Storage for Bulky Lightweight Gear
With high-roof vans, there's a lot of usable space for additional storage. Our headliner shelf is a gear loft that singlehandedly harvests the largest volume of wasted space in High Roof Sprinter vans to be reclaimed for bulky lightweight gear - window coverings, awnings, bedding, jackets, backpacks and more. Retains use of OEM visors and shelves.
Easy Access and Less Banging Your Head

We designed the unique shape for easy access and less banging on your head when you're entering and exiting the front cab area. It's constructed from 1680D Cordura fabric stretched between a tubular aluminum outer frame.
Easy to Install
There is no drilling. The gear loft mounts to the existing coat hook points. Easy to remove when you need. Check out the installation video below.
Pockets for Smaller Items
Our Gear Loft provides an 8.5 square foot platform. Additional pocket on the underside, accessible from both driver side and passenger side. Netting allows items stored to be seen from below. 
Compatibility
Currently compatible with 2007-present High Roof Sprinter vans. We also have a very similar version for High Roof Transit vans.
6" Clearance Behind Coat Hook
Make sure you have a 6" clearance behind the coat hook. Contact us if you have at least 5", since we can shorten the tubing to fit.
Materials
Tubular aluminum frame
1680D Cordura main body
Polyester mesh
Dimensions
Make sure you have 6" of clearance behind the coat hook - for example, upper cabinets or bulkheads immediately behind the driver's seat. If you have at least 5" please contact us first since in case we can shorten the tubing to fit.

Designed to store 5lbs on each side (right and left) and 10lbs total.

Designed: Monterey CA
Made: California, Taiwan & Cambodia