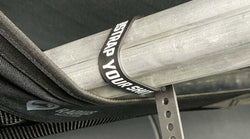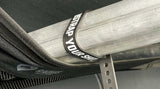 The price above is for (2) straps. 
Sometimes you don't need a cam strap for light-duty jobs. Reach for our stretch polyurethane UV-resistant straps with a heat-treated aluminum buckle to bundle, strap, or secure. We use them in the van, skiing, mountain biking, and in the garage. We offer three lengths 15", 20", and 25". Strap your shit and roll quiet! Each order includes (2) straps.
Slim profile, grippy, snuggy, quiet, daisy chain together.
Materials
Polyurethane rubber, Aluminum
Dimensions
All straps are 3/4" wide, lengths vary 15" 20" 25"
Buy more than you think you need!
Made: USA