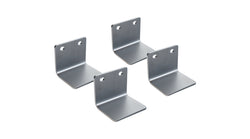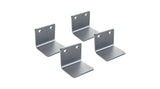 These Solar Mount Clips are an easy solution to install a flush solar panel between your Roof Rack Cross Bars. This allows items like kayaks or lumber to be installed over the solar panel.They are 3.5" long, predrilled to mount to the Cross Bars, and powder coated matte black. We use ours for a perfect fit with the Zamp 170W. 
What's Included in the Box
(4) Solar Mount Clips

Hardware to attach to the

Cross Bars
NOTE: You provide the hardware to install your panel on our Solar Mount Clips.

Attaching to Solar Panels
We do not drill the leg of the angle that your solar panel bolts to, which allows you to custom fit and drill.
Alternative option: Solar Mount Platforms
If you're using the 34" on center install protocol, check out the Solar Mount Platforms instead.
Contact us if you have any questions.
Stainless steel mounting hardware to Cross Bar included. Solar panel to clip hardware not included. Powder coated matte black finish.
 For a flush fit of your solar panels with the Cross Bars, make sure the overall width of your panel and mounts does not exceed 3". For a fit below the Cross Bars, make sure the overall width of your panel/hardware is under 3".
Allows a variety of panel sizes to be installed.
Allows items like kayaks, or lumber, to be installed over the solar panel, as long as the width of your panel/hardware is under 3".
Design: Monterey, CA
Made: CA