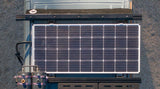 These Roof Rack Cross Bars are made from our own aluminum extrusion and are stronger than typical extrusions. They are extra heavy duty and ready for whatever you need to mount on your roof. If you're putting solar on the roof, check out the Roof Rack Kit which includes cross bar mounts and solar mounts.
What's Included in the Box
Two (2) Cross Bars (you select the length from the drop-down)
Remember to order the Rack Mounts (not included). If you want (4) Cross Bars on your van, which is the most common configuration, then you need to order quantity (2) of the Cross Bars and quantity (2) of the Rack Mounts.
Stronger than Typical Extrusions
At 235lbs, our founder can jump up and down on these with minimal deflection.
Sprinter Vans
For Sprinter van, make sure to get the 60" or 68" length. We have (4) 68" Cross Bars on our 144WB Sprinter. Use the 60" Cross Bars for a tightly cropped install and the 68" for maximizing your rack capacity.
Install Spacing
Our suggested install spacing is 34" o.c., which is designed to fit perfectly with the 144WB (download the configuration drawings for the 144" and 170" below). This 34" spacing maximizes the available racking space and allows for the use of our Solar Mount Platforms and Roof Deck.
Powder coated matte black finish, removable billet end caps, various accessory mounting kits available, aero dynamic profile.
Materials
Dimensions (three length options)
Download configuration drawings: 
Only the 60" and 68" will work on Sprinter factory roof tracks. The 50" bars are being offered for DIY'ers with other vehicles. Stay tuned for more mounting kits.
Pay attention to conflicts from roof fans and rooftop air conditioners.
Don't forget to order Rack Mounts and other accessories. We suggest purchasing the Wind Deflector for the Cross Bar over the cab - roll quiet.
Design: Monterey, CA
Made: Taiwan