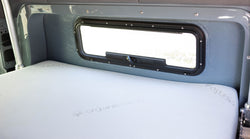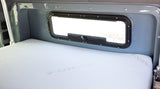 NOTE: Contact us if you'd like to expedite shipping for your Mattress since the current estimated standard shipping time is three weeks.
At Radius we support the DIY'er. If you want to create your own comfy mattress, then go for it and show us some pics. Or, if you'd prefer to get on the road quickly and in comfort, then consider our Sprinter R-Cage Mattress, which fits perfectly with the Bed Platform and Sprinter R-Cage.
We offer two foam options for both the 144WB and 170WB High Roof Sprinters: 1) Economy option is a firm 5.5" foam, and 2) Premium option is a 6" medium firm foam. Both options include an organic cotton fabric cover.
Additionally, we offer two options for sleep orientation: 1) for the sideways sleeper - Flarespace Flares must be installed, and 2) for the longways sleeper. When ordering your Mattress, make sure it's the same orientation as the Bed Platform.
All of our mattresses are split so that they can fold up to the walls of the van when not in use. The sideways options split under the sleeper's hips, and the longways options split between you and your sleep buddy.
Materials
Foam w/ organic cotton cover
Dimensions
Sideways - total 54"x74" (split, so each half is 54"x37")

Longways - total 58"x74" (split, so each half is 29"x74")
Fits perfectly with the

 

Bed Platform and Sprinter

 

R-Cage.
The only way you can use our sleep sideways mattress is if you've installed Flarespace Flares as well as our sleep sideways

 

Bed Platform. If you don't want the Flares then you need to buy the sleep longways Mattress and sleep longways

 

Platform.