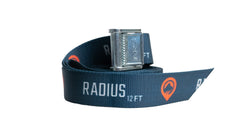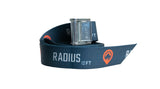 The price above is for (1) strap. 
Who doesn't love a bomber cam strap? Our straps are sturdy and fun. We use sublimated polyester and a high-quality cam buckle. Our favorite feature is the printed length on every strap. We've all been there trying to find a 4' strap in a pile of polyester. Grab with confidence. They're resistant to abrasion and water damage. Use them for strapping down almost any inanimate object - not your climbing buddy or your firstborn. Choose lengths of 2', 4', 8', or 12'. 
Our 1.5" webbing has a breaking strength of about 4800# and a working load of about 1600#. Each of the four 1.5" bar tacks are good for 494# or 1976# total. Our 1.5" cam buckles have a breaking strength of about 2200#. We like to think of these as straps with a 640# safe load limit.
Materials
Zinc buckle, Stainless steel pin and spring, Polyester webbing
Designed: Monterey, CA 
Made: Webbing is cut, sublimated, and sewn in Eugene, OR. Buckle made in China.  
This item is priced per strap; bring 2 for a matching pair.