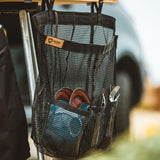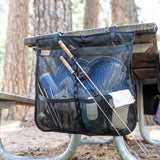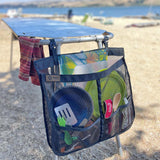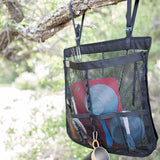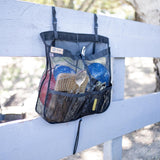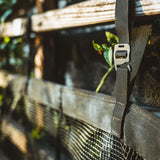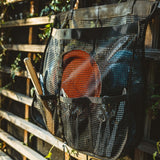 CAMPING DISH DRYING BAG
No More Hand-Drying
We use this on every trip! Makes car camping and overlanding so much easier, especially traveling with a group. Wash your dishes, stuff the mesh dish drying bag, and don't spend any time hand-drying. Allows dishes to dry quickly, and stay out of the dirt and sand. In fact, consider never putting the dishes away and just grab clean dishes from it when needed.
Group Size and Multiple Pockets
Easily holds dishes for a family of four (4) to six (6). Multiple pockets for large and small kitchenware. Fits a 12" diameter mixing bowl. One (1) main compartment with three (3) front pockets for smaller items like utensils, dish soap, sponge and more.
Easy to Hang
Hang from just about anywhere. Adjustable aluminum hooks for easily hanging outdoors on a camping table, tree branch, fence, van seatback, roof carriers, molle panels, or anywhere else that keeps your camp organized and clean. Easy to access whenever you car camp, river raft, kayak camp, BBQ, picnic, or travel with friends and family. 
Durable Mesh and Handles Weight
Made from strong reinforced PVC mesh netting that is easy to clean, tear-resistant and odor resistant. Aluminum stave along the top keeps the dish bag from collapsing when it's fully loaded with a lot of weight.
Dimensions
Measures 22" wide x 20" tall x 4" with the pleats extended. Weighs 1.7 lbs.
Ample length tether straps with anodized aluminum hooks, (1) main compartment with (3) front pockets for smaller items, and internal aluminum stave to keep the structure.
Materials
Reinforced PVC netting
Aluminum stave
Anodized Aluminum hooks
Dimensions

22" wide x 20" tall x 4" w/ pleats extended

Easily holds a 12" diameter mixing bowl
Easily holds dishes for a family of (4) to (6)
Use magnetic hooks to hang from your vehicle, metal table, etc
Design: Monterey CA
Made: Cambodia