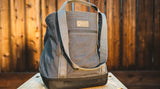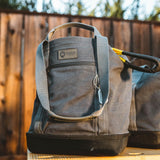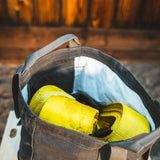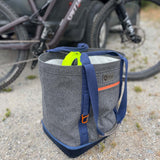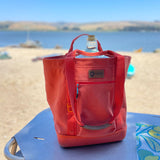 HEAVY-DUTY TOTE BAG FOR MEN
All-Purpose Carryall

Great for carrying camping, beach day, grocery, office, pet, and overland travel essentials. Rugged construction for heavy use as an everyday utility bag. This is NOT your typical tote - it is built to be tossed around and handle a lot of weight.
Durable and Handles Weight
It has an abrasion-resistant PVC liner, sturdy EVA base, and strong outer fabric. The triple-bartack stitching allows it to handle heavy loads when needed.
Stands Upright and Nice to Carry
The sturdy solid base keeps the bag upright and easy to load. It's comfortable to carry with leather wrapped shoulder straps. The white internal lining is easy to clean and helps you find what you need quickly.
Three Pockets
It has two zippered pockets for keeping smaller things organized and secure - keys, wallet, sunglasses, phone charger, etc. It also has one easy-access pocket for smaller on-the-go essentials like snacks, doggy bags, wet wipes and more. 

Dimensions
26 liters capacity and 14.25" x 11.25" x 15.25" tall when expanded. Bags folds up compact to only 3.25" tall when not in use and easy to store.
Two Size and Three Colors
Also available in a large Gear Tote size. Both sizes are currently available in three colors: Charcoal, Herringbone, and Orange. The Herringbone and Orange totes come with four different zipper-pull colors (green, orange, blue, yellow).
26 liters capacity, key hook, internal and external zipper pockets, leather handle wraps, internal lining is easy to clean, shoulder straps and grab handles.
Materials

Outer: 18oz. cotton canvas

Inner: PVC

Base: EVA construction with Cordura outer
Dimensions

Exterior to top of long handles: 14.25" x 11.25" x 27" tall

Exterior to top of short handles: 14.25" x 11.25" x 19" tall

Interior: 12" x 9" x 15.25" tall

Stowed: 14.25" x 11.25" x 3.25" tall
This isn't your usual lightweight flimsy tote. This thing has substance. Expect it to be a bit heavier and less collapsible than ordinary totes.
Designed: Monterey CA
Made: Cambodia