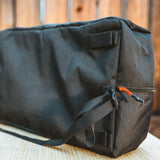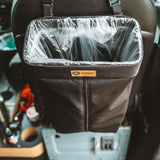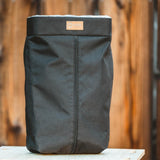 If you need something smaller, check out our SMALL TRASH TUBE.
You won't be able to live without these camp trash bag holders once exposed. We have two hanging in the Sprinter van, and one hanging from the camp table along with the Kitchen Organizers and Dish Drying Bag.

Clever features include a top retention ring to hold the liner bag in place, and full-length zipper for easy unloading WHEN you overstuff it. Hang from just about anywhere with aluminum G-hooks, a bottom tether for seat backs, and molle attachments. Add a Trash Tube Lid for a cleaner look.
8 gallon capacity, ample length tether straps with hooks, as well as Molle straps top and bottom for attaching onto a Molle panel.
Materials
Dimensions