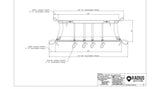 We've all got stories about the disasters that occur with a van hard-stop. Shit flies forward and this doesn't always end well. The Radius family can't seem to travel light so we've always got stuff on the bed while driving. Totes, beer, duffels, Gear Boxes - you name it we haul it on the bed. Enter Sprinter Trapper Net.
One of our favorite functional pieces to add to the Sprinter R-Cage. It's built a lot like our Sprinter R-Cage Storage Loft but cut smaller with different geometry. (4) RollerCam buckles in the corners plus additional lashings to the Sprinter Bed Platform keep this thing in place. Release one of the upper buckles and the whole thing drops down and out of the way. No hardware necessary - installs in minutes.
Adjustable at all (4) corners thanks to RollerCam buckles and (4) lower lashings that engage with the
Bed Platform using anodized aluminum hooks. Quick to install and easy to drop out of the way.
Materials
1680D Cordura main body and polyester mesh

Rollercam buckles
Dimensions
See the drawing images below for detailed dimensional information.

18" tall, 52" at the top, 58" at the bottom

1" straps are 36" at the top, 30" at the bottom

(4) straps along the bottom are 18" long
DRAWING IMAGES for dimensional information.
Trapper is ideal for the sleep sideways config as it attaches to the Sprinter R-Cage and the Sprinter Bed Platform. It can be used on the longways config but a little clunky.
Design: Monterey, CA
Made: Cambodia