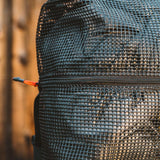 We're all guilty of stuffing dirty clothes into the depths of our road trip duffel. This breathable Laundry Tube keeps the dirty stuff organized, and the full-length zipper makes it easy to unload at the end of a trip.
Multiple hanging options for a seatback, table, molle panel, or anywhere else in camp. If you have a liner bag, the retention ring at the top keeps it in place.
Also great for swimsuits & wet gear, trash & recycling, pet stuff and more.
Open top for "toss it in access." Full length zipper in case you pack it too tight. Molle attachments. Seatback attachments. Rubberized mesh so it won't stink. It also includes a removable retainer ring so you can use a liner bag.
Materials
Dimensions
This product will not wash your clothes for you - that's on you!
Design: Monterey CA
Made: Cambodia
PROP 65 INFORMATION