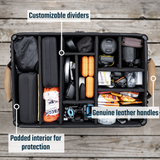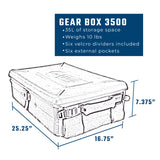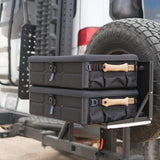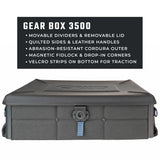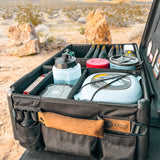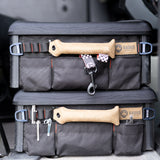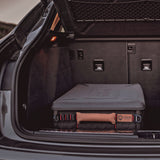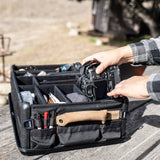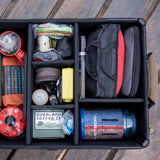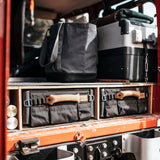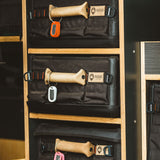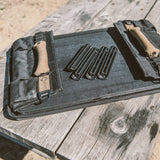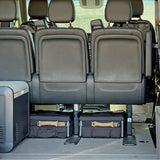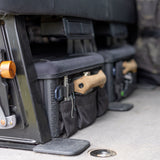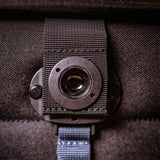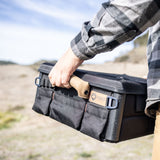 CAMP STORAGE BOX - MEDIUM
No More Wasting Time Looking For Gear

With the customizable compartments, everything has its place – especially smaller gear that's always falling to the bottom of plastic bins, such as headlamps, chargers & batteries, first aid, dry goods & snacks, kitchen items, bike essentials, and pet stuff.
Strong Enough to Sit On, Stack Up, or Toss Around
These storage boxes are tough. They're rigid and can support 100+ lbs of weight on top when the lid is on and the dividers are configured inside for support. All three sizes have a durable abrasion-resistant Cordura outer. We often use ours as chairs, and as a step stool to get in and out of bed.
No More Rattling Sounds While Driving
The quilted sides and dividers dampen sound. Rattling and squeaks drive us crazy while we're on the road – these storage boxes were carefully engineered to eliminate that.
Adjustable, Customizable, and Easy to Access
Each storage box comes with six movable velcro dividers, and extra divider kits are available for creating smaller or different shaped compartments. The lid is removable – attached on one side by velcro and the other side by a magnetic Fidlock latch. The latch allows you to access your gear quickly and can be opened one-handed. If you don't want the latch, order the 3500A from the dropdown.
No More Sliding Around in Carpeted Vehicles
Each box has two strips of hook velcro on the bottom, keeping them in place on carpeted surfaces when you're bouncing around on a washboard road or canyon carving tight turns with no brakes. You can attach loop velcro to the strips if you prefer they slide, or if you're concerned with them rubbing on your seat material.
Perfect for Under the Sprinter Factory Bench Seat
Two 3500A boxes fit perfectly in the two storage areas beneath the Mercedes Sprinter Crew bench seat. If you prefer the 3500 with the Fidlock latch, we recommend tucking the male end of the latch under the lid before sliding the box under the seat. If you have cup holders, make sure they won't be in the way or they'll need to be removed for the boxes to fit.
Store Anything You Want & Stay Organized
Keep your essential gear organized and protected with the customizable dividers. We won't judge what you put in your body or your box. If you're proud of it, send us a photo (or tag us) and we'll share it so it gets the eyeballs it deserves.
Flat Pack Them When Not in Use to Save Space
The injection-molded corners and lid are removable, allowing you to store the box flat if you're tight on space.
Three Sizes Available & Where They Are Made
This is the Medium size, with a 35L storage capacity, and it weighs 10lbs. Exterior dimensions (with the handles compressed) are 25.25" wide x 16.75" long x 7.375" tall – in comparison, the 3000 is the Small size (W 18" x L 13.75" x H 12.25") and 5500 is the Large size (W 25.25" x L 16.75" x H 12.25"). The 3500 & 5500 have the same footprint, and the 5500 & 3000 are the same height. They are made in Cambodia.
Leather Handles Make It Comfortable to Carry
Genuine leather handles give the box the finishing touch it deserves and makes it nice to carry, especially when it's fully loaded.
Easy to Set Up
The boxes arrive flat to your door and are easily assembled by inserting the corners, configuring the velcro dividers and then adding the lid. Watch the assembly video for more details.
External Pockets for Small Items & Quicker Access
If you have things stacked on top of the box and need easy access to small essentials on the road, there are six external pockets that are expandable. Perfect for batteries, camera accessories, tire gauge, snacks, straps & clips, toiletries and more.
35 liter capacity
Weighs 10lbs
6 dividers are

 

included

 

so that you can create your own custom configurations. We also offer

 

extra divider sets

 

if needed.
Gear Box arrives flat. Watch the assembly video

 

for how to insert the injection-molded corners and adjust the velcro dividers.

Ballistic material, rigid top and bottom, and removable lid with magnetic Fidlock catch

Leather handles

Expandable pockets on ends for smaller items

Velcro strips on the bottom, keeping it from sliding on carpeted vehicle floors.
We also use our Dog Tags with color-coded silencers to label each one.
Materials
1680D Cordura main body

Leather, Nylon, & Poly
Dimensions
Exterior w/ handles compressed: W 25.25" x L 16.75" x H 7.375"

Interior: W 21" x L 14.25" x H 6.375"
S

hipped flat. 

Minimal assembly is required (

watch assembly video

).
Extra divider sets are available, for creating more compartments
We offer two variants for the Gear Box 3500. If you want it to fit under the Mercedes factory bench seat then we recommend the variant without the Fidlock. Also make sure you don't have cupholders that will be in the way, or they'll need to be removed for the boxes to fit.
Designed in Monterey, CA
Made in Cambodia